The whitelabel feature of Tutanota enables you to change the design of Tutanota so that you can use your preferred color theme in Tutanota, including a black theme. Activation of this feature is only possible when you use Tutanota with your own domain email as the customized theme will be linked to your domain.
Black theme
Meant as a business feature, the whitelabel feature includes many more customizations, but if you are in need of a black theme or any other colored theme, whitelabel will perfectly suit your needs.
The whitelabel feature can be booked in one step by upgrading to Pro. Alternatively, you can upgrade to Premium and add whitelabel under Settings.
Please send us screenshots of your personalized Tutanota design! We're very curious.
How to customize colors in Tutanota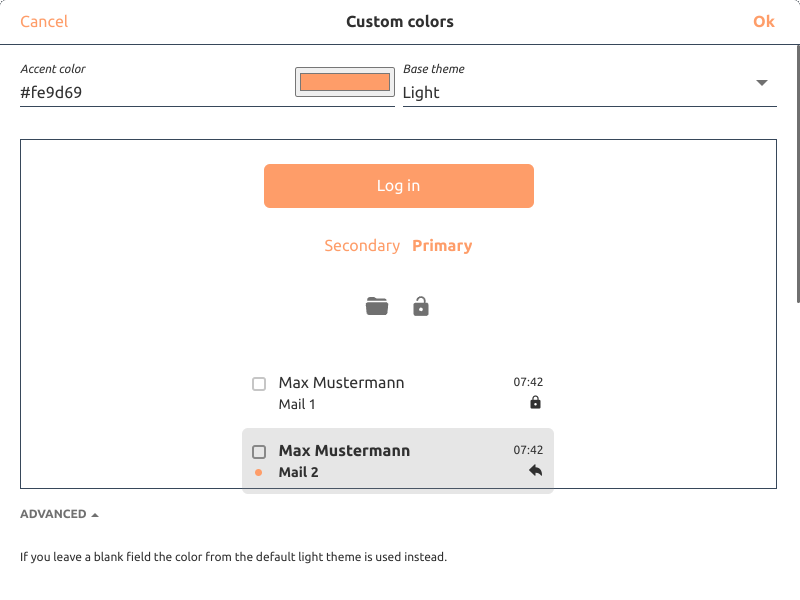 To switch to a black theme or any other colored theme in Tutanota, you have to change the colors in the Settings of your administration account. Once changed, all users of your account will be able to use the customized color theme.
After booking, you can easily change colors by going to Settings -> Whitelabel -> Custom colors: Click the pen symbol to set the colors according to your own design preferences.
We explain all whitelabel customizations in our How-to.
How to switch between dark theme and light theme
Apart from the customizable theme in whitelabel, every Tutanota user has the option to use one of the available themes: a light theme or a dark theme. Both are available in all clients - web, apps, and desktop clients.
You can switch between themes on the login screen by clicking on 'More' or you can switch from the default light theme to the dark theme while being logged in to Tutanota in Settings.