Good causes deserve support.
We support non-profits and schools in their effort to make our world a better place. Save time and money with a highly discounted Tuta subscription.
Apply to get Tuta at a discount
To apply for the 50% discount, please contact our sales team from your organization's email address and provide the following information:
Short description of your NPO or school
Link to your website
Proof that you are a registered NPO or a school for general education
We will then send you a signup link for Tuta with the discount included. In case you already have a Tuta account you want to use for your NPO, please let us know the email address and we will configure the discount for that existing account.
Free offer for open source projects
To apply for the free version of Tuta for your open source team, please send us an email with the following information from your official GitHub email address or from your (custom domain) email address that is linked to your project's website:
Project name
A short description of your project
A link to your project's website
Please find details on whether your project qualifies for this Tuta donation on our blog.
Focus on Your Email Needs
We put the email needs of your business first by providing a secure email service that lets you focus on the things that matter. With custom domain support, an unlimited number of custom domain email addresses, flexible user addition, whitelabel customizations, smart filtering, and GDPR compliance, we strive to make Tuta the perfect email service for your business.
Save Time and Money with Tuta
Tuta hosts all your business emails end-to-end encrypted on highly secured servers based in Germany. We enable your business to use the benefits of the cloud - availability, cost-efficiency, flexibility, automatic backup - without compromising on security. With Tuta you own your data, no one else can access it.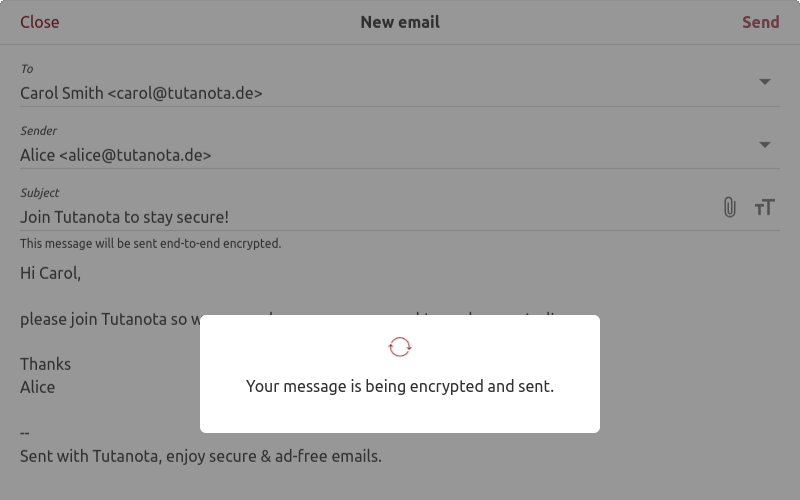 Encrypted Mailbox Engineered in Germany
Tuta is based in Hanover, Germany. All your encrypted emails are stored on our own servers in highly secured data centers in Germany, powered with renewable energy. With its strict data protection laws and the GDPR, Germany has some of the best laws in the world to protect your secure emails.
All Business Features of Tuta
Switch to Secure Business Emails Today